Trakx Weekly Update: April 10, 2023
Key Crypto Market Figures

CTIs Weekly Performance
Crypto market consolidates.
The pace of crypto gains remained moderated over the past week. The Trakx Top10 Crypto CTI was essentially flat, off around 1%. To note, and of interest, was Elon Musk having fun making the Dogecoin logo the new home button on Twitter, questioning whether or not it will trigger a rally in crypto when we are still in the middle of confusing signals from the Feds. There are ongoing discussions on which tokens qualify as securities that should be regulated by the SEC and which are actually commodities or derivatives that should be overseen by the CFTC. Also, some stats were shared from Kaiko highlighting the fact that in March Bitcoin had reached its strongest correlation with gold in more than a year, another evidence that it is increasingly adopted for its store of value attribute.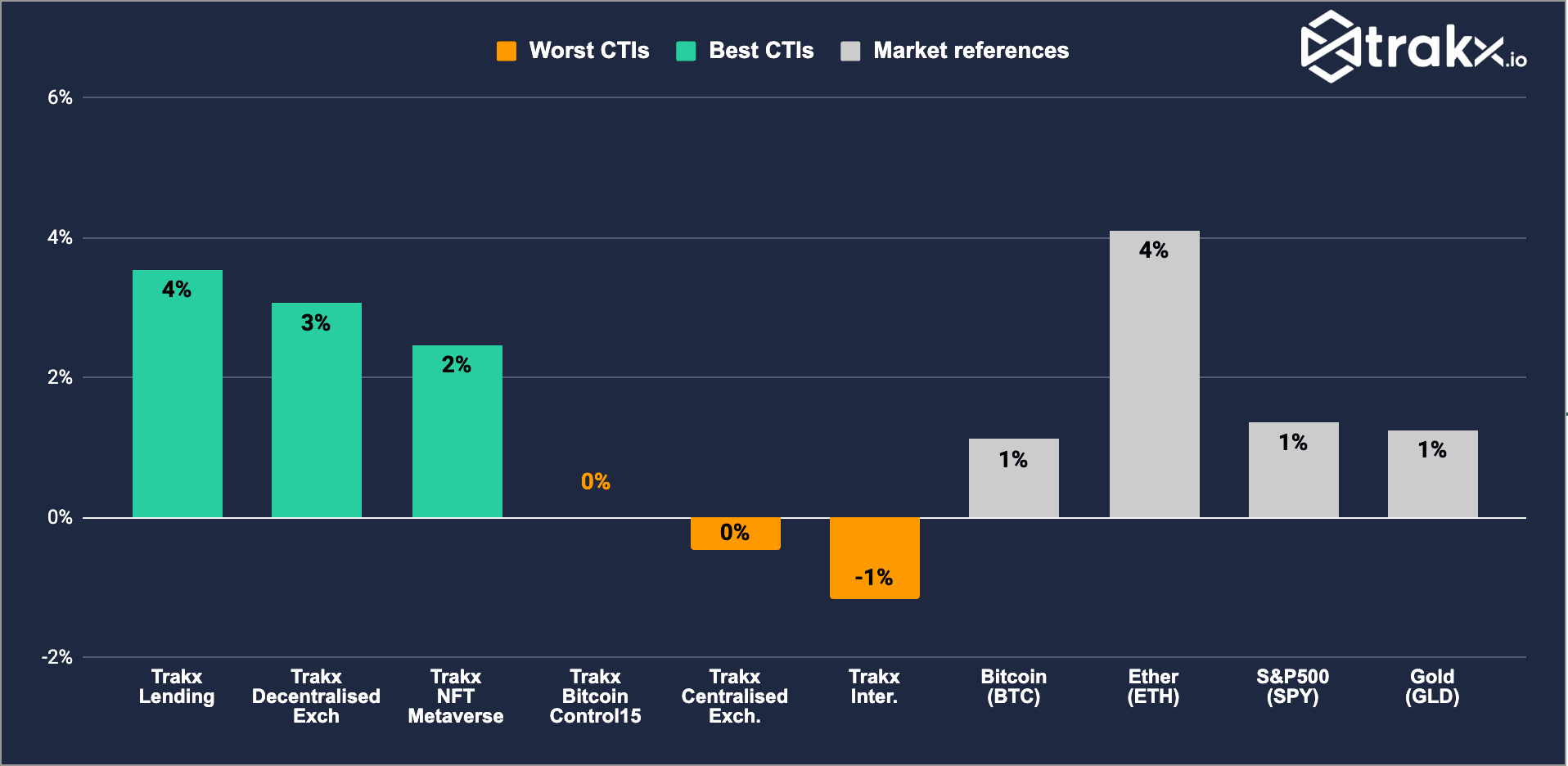 Sources: Trakx, Coingecko, Alphavantage
Market Trends
Coindesk: Bitcoin faces low risk of 'liquidations-induced' price volatility after a 70% surge.
Coindesk: Dogecoin futures set record after Twitter adopts token's dog logo.
Cointelegraph: Lawyer lays out his reasoning on why XRP is not a security.
EL PAÍS: Crypto evangelists enter the Bukele government: The dark business of bitcoin in El Salvador.
Trakx News
Trakx CTIs Performance

Sources: Coingecko and AlphaVantage
*Return of bitcoin is calculated since 01/05/2020, while CTIs performances were calculated since their respective launch date.
**Includes simulated performance.
***The risk signal is determined according to the historical volatility level, the higher the riskier.
Trakx is a global fintech company creating new standards for digital asset investments. Through our trading platform, we offer thematic Crypto Tradable Indices (CTIs) and customised solutions, providing sophisticated investors with a high degree of compliance, custody, and liquidity.
TRAKX SAS, 10 rue de Penthièvre, Paris, 75008, FRAFrench société par actions simplifiéeParis Trade and Companies Register number 850 626 078Crypto Asset Service Provider (CASP)Registered with the Autorité des Marchés Financiers (AMF) under number E2021-020
Disclaimers: No Investment Advice. Index returns and statistics are for illustration only. Index returns do not reflect any transaction costs or expenses. Past performance does not guarantee future results. The information provided in this newsletter does not constitute investment advice, financial advice, trading advice, or any other sort of advice and you should not treat any of the newsletter content as such. Trakx.io does not recommend that any cryptocurrency should be bought, sold, or held by you. Readers shall conduct their own due diligence and consult their financial advisors before making any investment decisions.