Trakx Weekly Update: February 27, 2023
ESG, Interoperability, and Top 10 PoS CTIs Among Worst Performers
Key Crypto Market Figures
Crypto Tradable Indices (CTIs) Weekly Performance
Unlike the prior week, when the crypto market was able to shrug off the weakness in tradfi risky assets, amid the intensification of the sell-off (S&P500 -3% w/w) crypto succumbed to the rise in investor risk aversion. In almost a mirror image of last week's performance, the ESG, interoperability and Top 10 PoS CTIs were the worst performers. As a result, our broad measure of the crypto universe – the Top 10 CTI – fell 4% on the week.
The catalyst for the sell-off was, as earlier in the month, macro headwinds. Terminal US interest rate expectations continued to march higher suggesting that inflation pressures are more durable than anticipated. In addition, the crypto sector also had to contend with the ongoing regulatory push. The IMF published a paper outlining how its members should develop and apply comprehensive crypto regulations in light of their perceived potential to undermine the effectiveness of monetary policy. Interestingly, the paper made no mention of why crypto adoption has been rising in the first place – something that would seem to be highly pertinent. That said, if the answer is politically unpalatable perhaps it was best not to ask the question.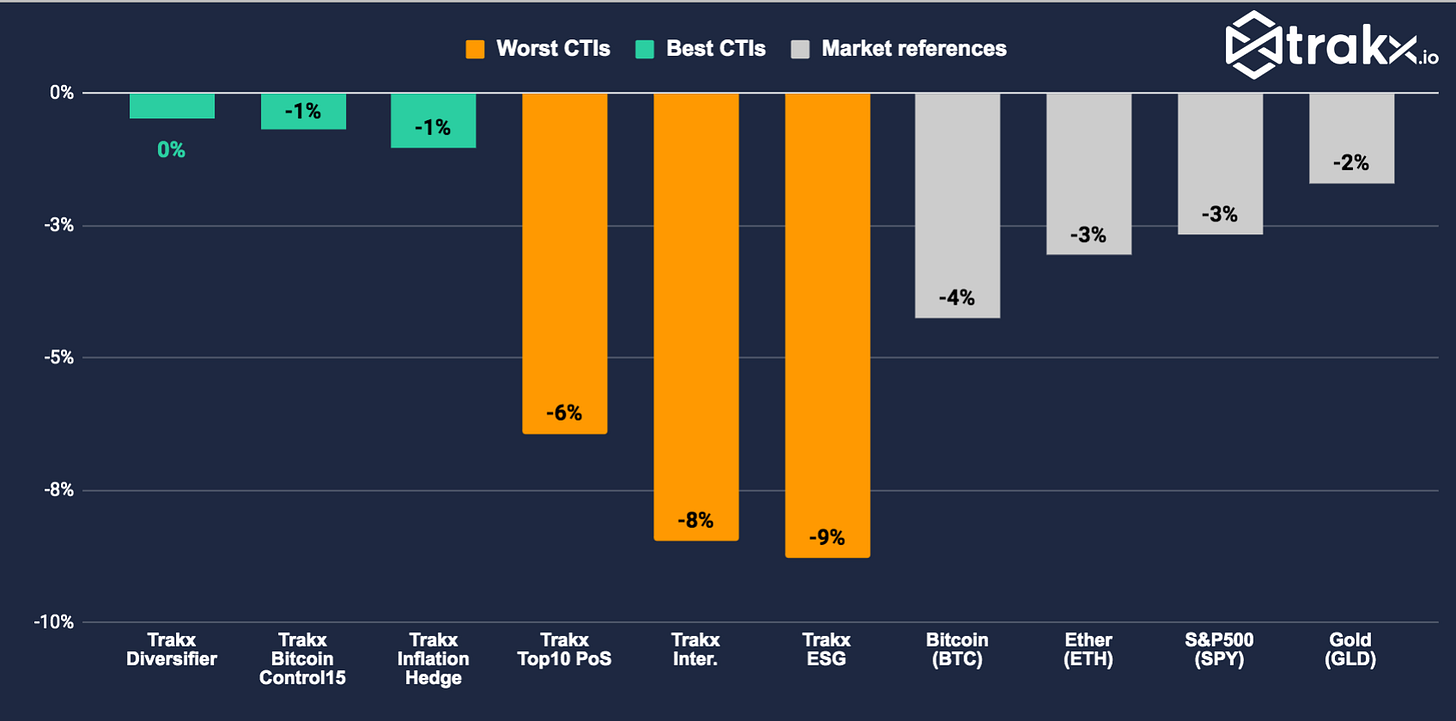 Market Trends
Trakx CTIs Performance

Sources: Coingecko and AlphaVantage
*Return of bitcoin is calculated since 01/05/2020, while CTIs performances were calculated since their respective launch date.
**Includes simulated performance.
***The risk signal is determined according to the historical volatility level, the higher the riskier.
Trakx is a global fintech company creating new standards for digital asset investments. Through our trading platform, we offer thematic Crypto Tradable Indices (CTIs) and customised solutions, providing sophisticated investors a high degree of compliance, custody and liquidity. Trakx is registered with the French regulator (AMF).
Disclaimers: No Investment Advice. Index returns and statistics are for illustration only. Index returns do not reflect any transaction costs or expenses. Past performance does not guarantee future results. The information provided in this newsletter does not constitute investment advice, financial advice, trading advice, or any other sort of advice and you should not treat any of the newsletter content as such. Trakx.io does not recommend that any cryptocurrency should be bought, sold, or held by you. Readers shall conduct their own due diligence and consult their financial advisors before making any investment decisions.