Trakx Weekly Update: January 23, 2023
Key Crypto Market Figures
Crypto Tradable Indices (CTIs) Weekly Performance
Last week witnessed another strong performance by the crypto sector as evidenced by the Top 10 Crypto CTI gaining 7%. As a result, the total cryptocurrency market cap rose above the psychologically significant $1tr level last seen just prior to the collapses of FTX and Alameda Research. As testimony to the improved sentiment, the announcement that Genesis was filing for Chapter 11 caused barely a ripple. Even though the DoJ's announcement of a "major international cryptocurrency action" caused a little flutter mid-week, it quickly turned into a "nothingburger", when the authorities revealed it was a small Hong Kong-based exchange called Bitzlato, that almost no one had heard of. One thing that could be helping support cryptocurrencies – and inflation-hedging assets like gold more generally – is continued chatter about the US minting a one trillion dollar coin after the debt ceiling was hit on Thursday for reasons outlined here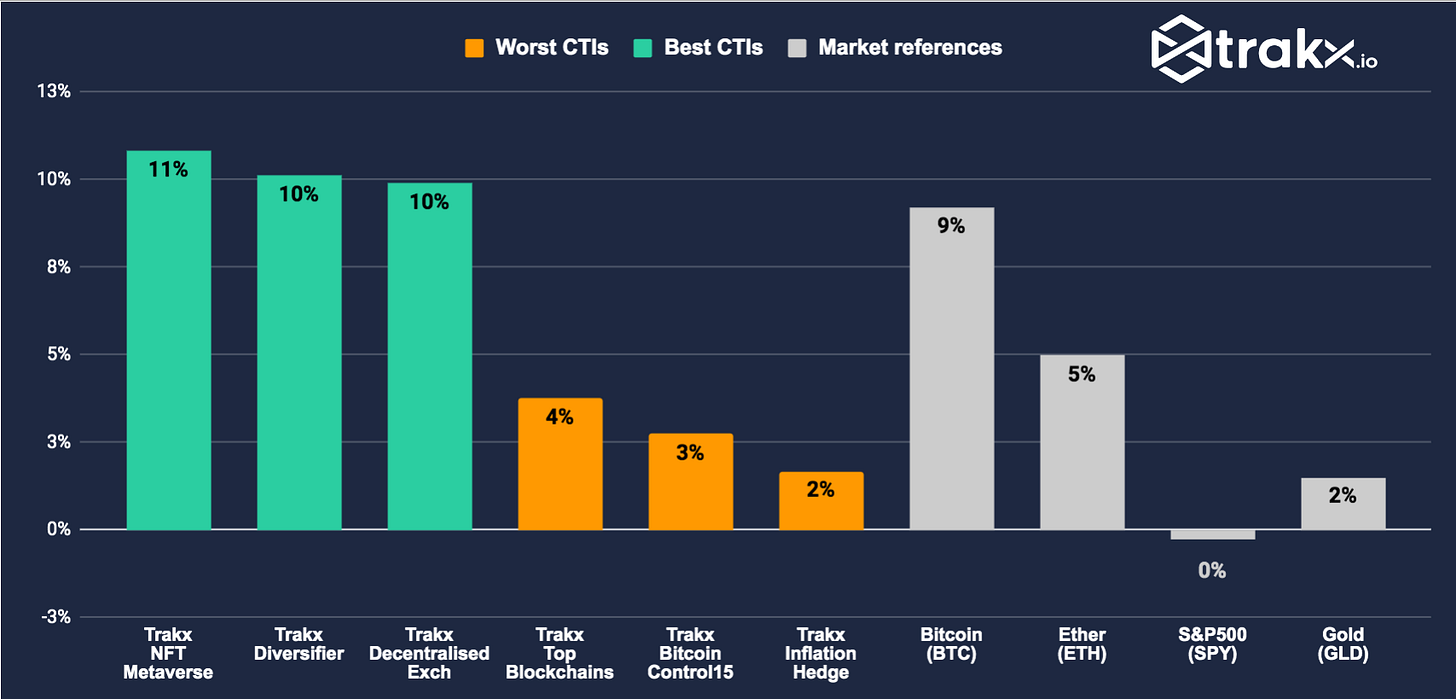 Sources: Coingecko and AlphaVantage
Market Trends
Trakx News
Trakx CTIs Performance
Sources: Coingecko and AlphaVantage
*Return of bitcoin is calculated since 01/05/2020, while CTIs performances were calculated since their respective launch date.
**Includes simulated performance.
***The risk signal is determined according to the historical volatility level, the higher the riskier.
Trakx is a global fintech company creating new standards for digital asset investments. Through our trading platform, we offer thematic Crypto Tradable Indices (CTIs) and customised solutions, providing sophisticated investors a high degree of compliance, custody and liquidity. Trakx is registered with the French regulator (AMF).
Disclaimers: No Investment Advice. Index returns and statistics are for illustration only. Index returns do not reflect any transaction costs or expenses. Past performance does not guarantee future results. The information provided in this newsletter does not constitute investment advice, financial advice, trading advice, or any other sort of advice and you should not treat any of the newsletter content as such. Trakx.io does not recommend that any cryptocurrency should be bought, sold, or held by you. Readers shall conduct their own due diligence and consult their financial advisors before making any investment decisions.