Trakx Weekly Update: March 20, 2023

Key Crypto Market Figures

CTIs Weekly Performance
Another week, another rescue of a troubled bank and another injection of liquidity. This time it was the turn of Europe with Credit Suisse being sold to UBS for CHF3bn after the earlier announcement that it had agreed to a CHF 50bn covered loan facility from the Swiss National Bank (SNB) failed to assuage investors. In addition, to the sale, the SNB offered a CHF 100bn liquidity assistance and agreed to a CHF 9bn guarantee to UBS for any potential losses on CS assets arising from the purchase.
Two aspects of the sale are particularly troubling. First, shareholders of the institutions involved have no say on the deal – it will not be put to a shareholder vote – and second, CHF 16bn of AT1 Contingent Convertible bonds (CoCos) were written down to zero. Given credit is supposed to be higher in the capital structure than equity, that some CS bond holders have been wiped out unlike equity holders, who at least get something, the deal will do little to attract fresh private capital to the banking sector. In anticipation of the potential for continued contagion in the global banking sector, G7 central banks agreed to ramp-up swap lines to ensure a continued supply of US dollars.
With trust in the fiat money system – or at least part of it – failing combined with the global liquidity tap being turned back on, this was rocket fuel for the crypto market. Bitcoin surged to over $28,000 - a weekly gain of almost 30% that pushed year-to-date gains to over 60%. Gains were not limited to Bitcoin – virtually all the top cryptocurrencies witnessed strong weekly gains as the "Print go brrr" narrative came back into vogue. As a result, the Trakx Top10 Crypto CTI jumped 16%, while the Bitcoin/Ether CTI rose 21%: significant outperformances relative to the S&P (1%) and gold (6%).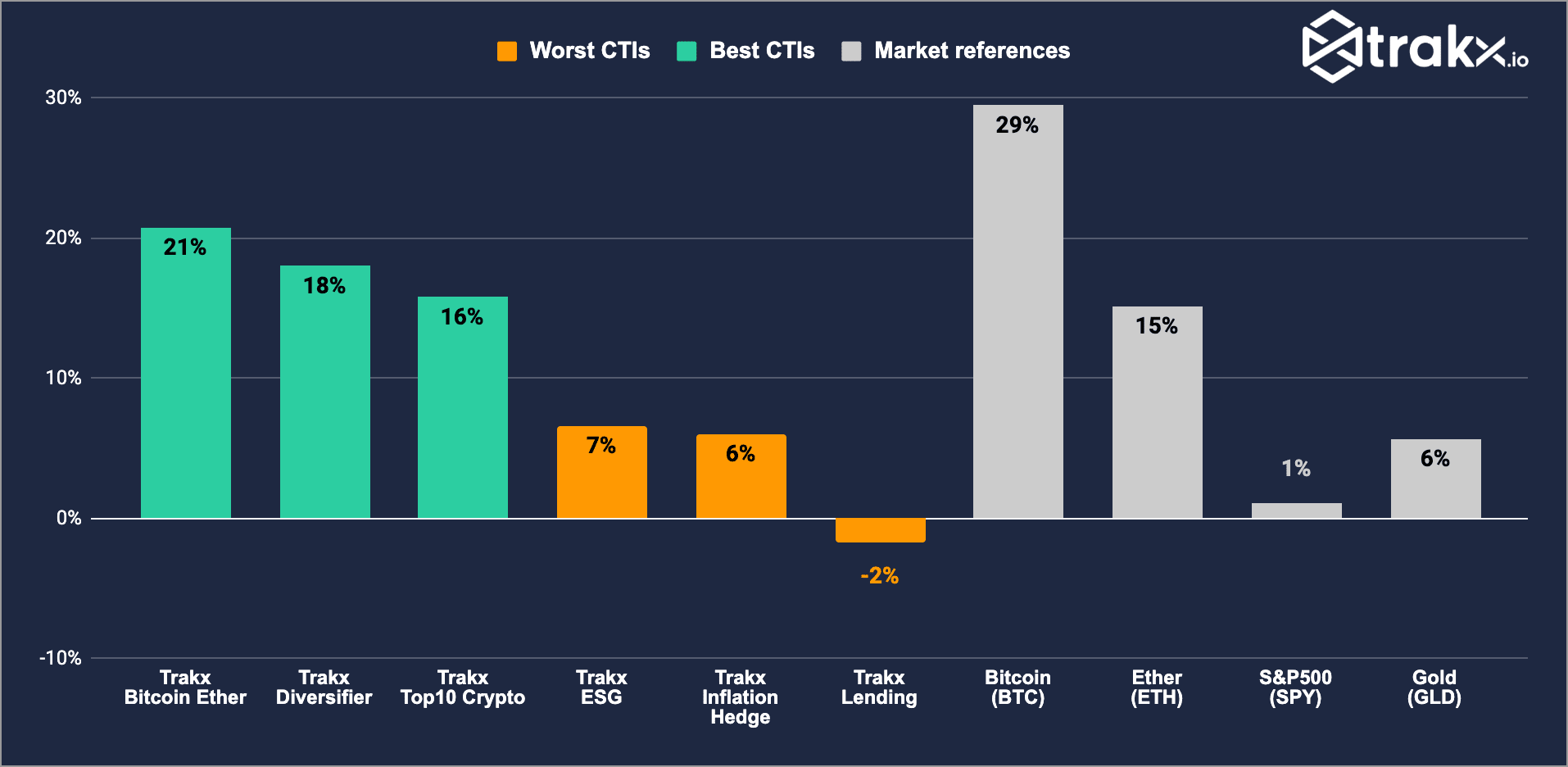 Sources: Trakx, Coingecko, Alphavantage
Market Trends
UBS agrees $3.25bn rescue deal for rival Credit Suisse: ft.com
Risky Credit Suisse Bond Wipeout Upends $275 Billion Market: Bloomberg.com
Fed, ECB and Others Take Coordinated Steps to Boost Dollar Liquidity; Bitcoin Tops $28K: coindesk.com
Trakx News
Ryan Shea published an article "Le filet de sécurité prévu par la Fed pour renflouer les banques pourrait ne pas suffire" in La Tribune
Trakx CTIs Performance
Sources: Coingecko and AlphaVantage
*Return of bitcoin is calculated since 01/05/2020, while CTIs performances were calculated since their respective launch date.
**Includes simulated performance.
***The risk signal is determined according to the historical volatility level, the higher the riskier.
Trakx is a global fintech company creating new standards for digital asset investments. Through our trading platform, we offer thematic Crypto Tradable Indices (CTIs) and customised solutions, providing sophisticated investors with a high degree of compliance, custody and liquidity.
TRAKX SAS, 10 rue de Penthièvre, Paris, 75008, FRAFrench société par actions simplifiéeParis Trade and Companies Register number 850 626 078Crypto Asset Service Provider (CASP)Registered with the Autorité des Marchés Financiers (AMF) under number E2021-020
Disclaimers: No Investment Advice. Index returns and statistics are for illustration only. Index returns do not reflect any transaction costs or expenses. Past performance does not guarantee future results. The information provided in this newsletter does not constitute investment advice, financial advice, trading advice, or any other sort of advice and you should not treat any of the newsletter content as such. Trakx.io does not recommend that any cryptocurrency should be bought, sold, or held by you. Readers shall conduct their own due diligence and consult their financial advisors before making any investment decisions.