Trakx Weekly Update: March 27, 2023

CTIs Weekly Performance
After a couple of weeks of explosive price action, the pace of crypto gains moderated over the past week. The Trakx Top 10 Crypto CTI was essentially flat, off around 1%. Interestingly, amongst the Trakx Crypto Tradable Indices the outperformers (Inflation Hedge, Bitcoin Control 15 and Bitcoin/Ether) where those containing the crypto market leaders – Bitcoin and Ethereum. This suggests that during periods of heightened uncertainty in tradfi markets, it is the larger cap market cryptocurrencies that investors consider the strongest "safe havens".
Part of the reason for crypto consolidation was the Fed continued to press ahead with rate hikes – albeit at a more moderate 25bp pace – and QT. While the Fed's actions slightly dented confidence in the Printer Go Brrr narrative that helped propel crypto prices higher, with US money market funds continuing to see extremely strong inflows – indicative of continued concern about the health of US regional banks - there is a clear risk the Fed may be forced to reverse course or risk a replay of the 2019 "policy mistake".
Elsewhere the clean-up and regulatory response to last year's crypto winter continued. The founder of Terraform Labs, Do Kwon, whose whereabouts has been unknown for several months, was arrested in Montenegro. Meanwhile, the SEC charged Tron founder Justin Sun over an unregistered offer and sale of "crypto asset securities" and also issued a Wells Notice to Coinbase alleging its staking products were unregistered securities. This comes just a month after the US crypto exchange Kraken, facing similar accusations, decided to halt its staking service and agreed to pay a $30 million settlement.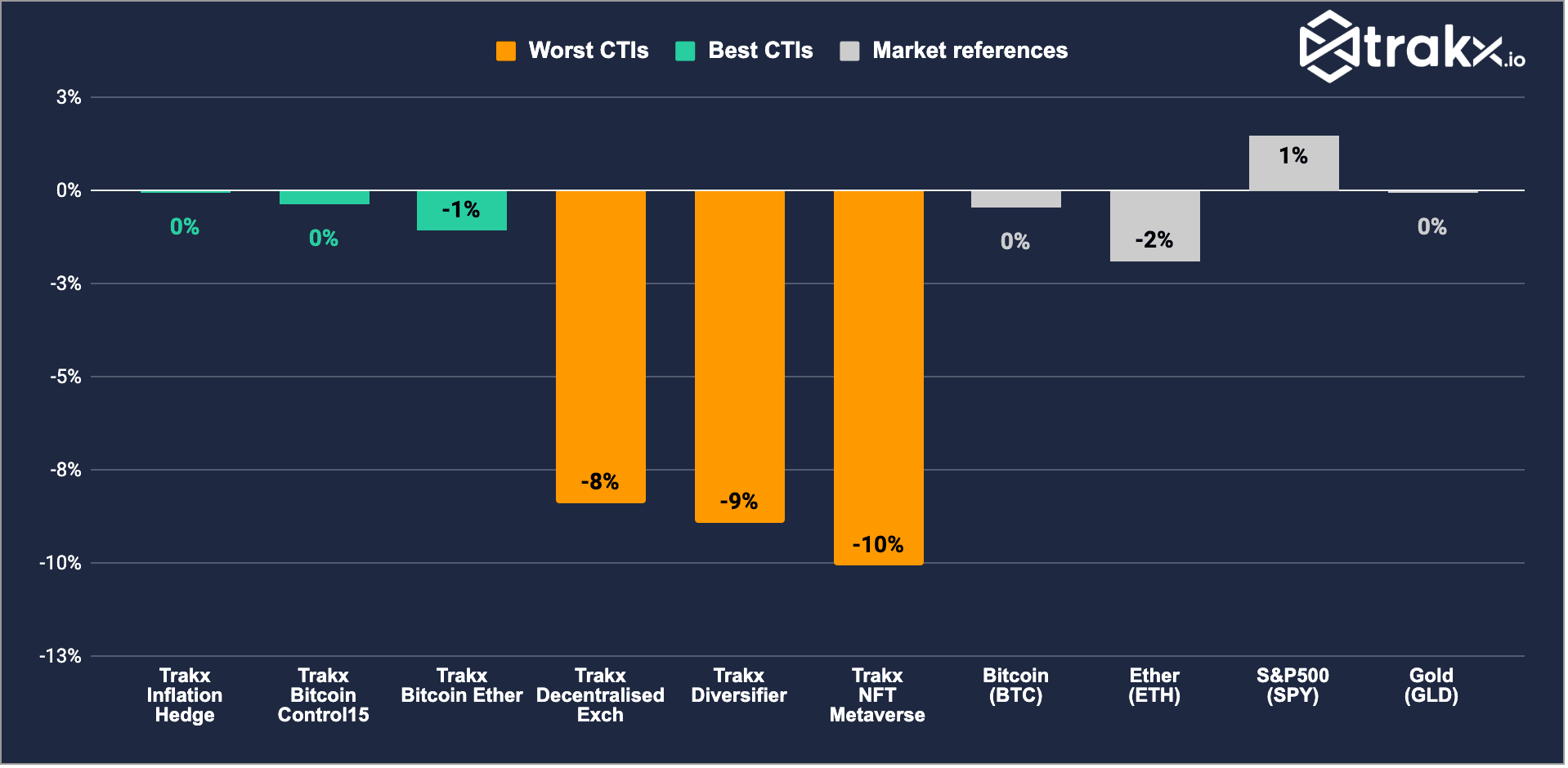 Sources: Trakx, Coingecko, Alphavantage
Market Trends
Trakx CTIs Performance

Sources: Coingecko and AlphaVantage
*Return of bitcoin is calculated since 01/05/2020, while CTIs performances were calculated since their respective launch date.
**Includes simulated performance.
***The risk signal is determined according to the historical volatility level, the higher the riskier.
Trakx is a global fintech company creating new standards for digital asset investments. Through our trading platform, we offer thematic Crypto Tradable Indices (CTIs) and customised solutions, providing sophisticated investors with a high degree of compliance, custody and liquidity.
TRAKX SAS, 10 rue de Penthièvre, Paris, 75008, FRAFrench société par actions simplifiéeParis Trade and Companies Register number 850 626 078Crypto Asset Service Provider (CASP)Registered with the Autorité des Marchés Financiers (AMF) under number E2021-020
Disclaimers: No Investment Advice. Index returns and statistics are for illustration only. Index returns do not reflect any transaction costs or expenses. Past performance does not guarantee future results. The information provided in this newsletter does not constitute investment advice, financial advice, trading advice, or any other sort of advice and you should not treat any of the newsletter content as such. Trakx.io does not recommend that any cryptocurrency should be bought, sold, or held by you. Readers shall conduct their own due diligence and consult their financial advisors before making any investment decisions.