Trakx Weekly Update: March 6, 2023
Key Crypto Market Figures
Crypto Tradable Indices (CTIs) Weekly Performance
For much of last week, a semblance of stability returned to crypto markets. However, late Thursday prices moved sharply lower on the news that Silvergate Bank, a regulated US financial institution that provides banking services to crypto businesses, would delay its annual 10-K filing. The reason given for the delay was it required additional time to evaluate its financial reports and to allow independent auditors to complete certain audit procedures. However, Silvergate may end up less than well-capitalized. On the back of the news, which sent its share price down over 50%, many of Silvergate's clients, including numerous leading crypto companies, announced they would cease clearing operations with the bank.
Beyond the immediate impact, evidence of contagion from crypto to trafi – albeit modest – will only strengthen the resolve of government agencies around the globe to apply more stringent regulation to the sector. As we argue in a just-published blog post, this push could actually prove to be a positive development for the industry because it removes one of the key uncertainties that has hindered broader crypto adoption.
As a result of renewed weakness in crypto prices, Trakx's Top 10 CTI was off 6% on the week, with the ESG and NFT Metaverse Crypto Tradable Indices off slightly more. However, losses were more contained in the Lending CTI, (-1%) as Maker rallied 20% on the news that MakerDAO may allow users to borrow the protocol's DAI stablecoin against it, while the Inflation hedge CTI gained 0.8% on the week aided by a 3% rally in Paxos Gold.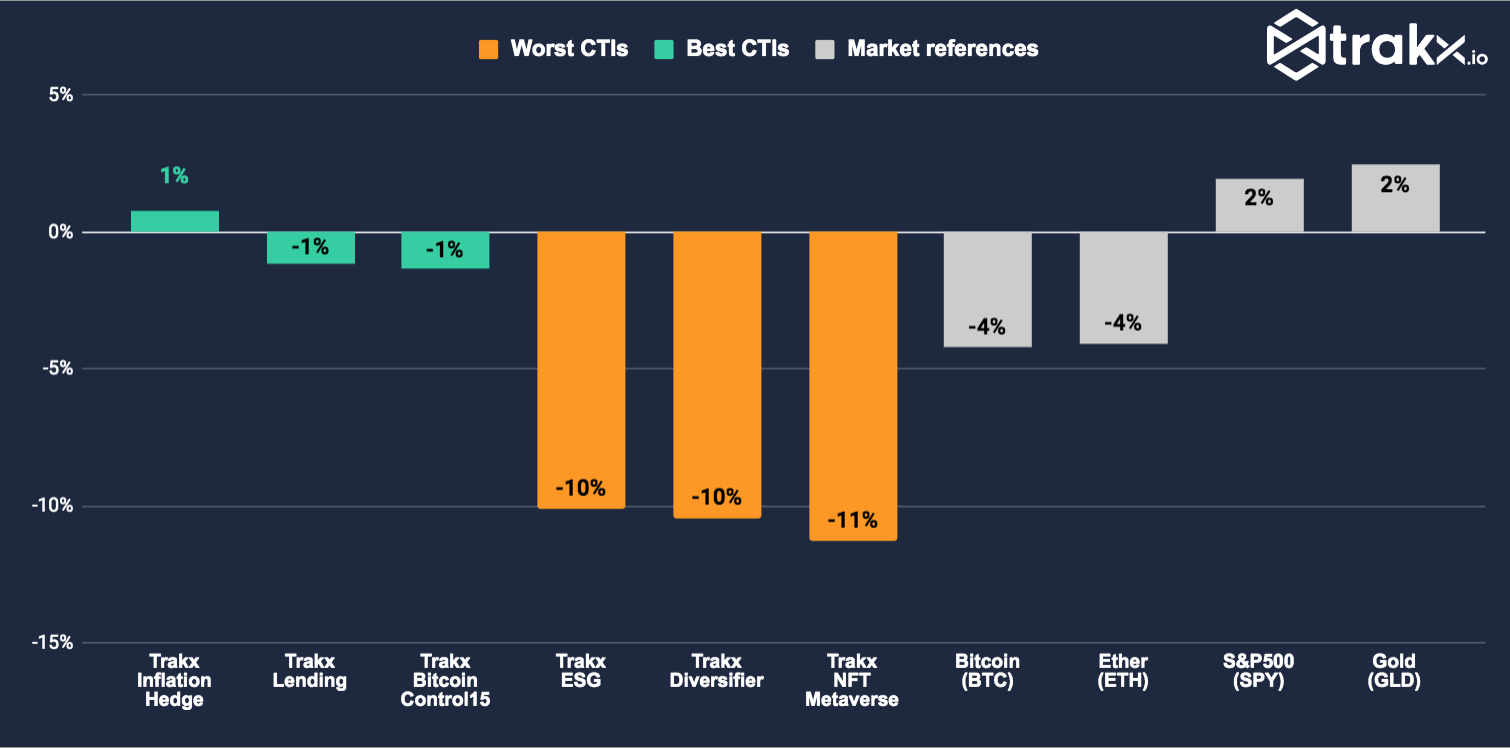 Market Trends
Trakx News
Ryan Shea published his latest research paper, Crypto Wager
Trakx CTIs Performance
Sources: Coingecko and AlphaVantage*Return of bitcoin is calculated since 01/05/2020, while CTIs performances were calculated since their respective launch date.
**Includes simulated performance.
***The risk signal is determined according to the historical volatility level, the higher the riskier.

Trakx is a global fintech company creating new standards for digital asset investments. Through our trading platform, we offer thematic Crypto Tradable Indices (CTIs) and customised solutions, providing sophisticated investors a high degree of compliance, custody and liquidity. Trakx is registered with the French regulator (AMF).

Disclaimers: No Investment Advice. Index returns and statistics are for illustration only. Index returns do not reflect any transaction costs or expenses. Past performance does not guarantee future results. The information provided in this newsletter does not constitute investment advice, financial advice, trading advice, or any other sort of advice and you should not treat any of the newsletter content as such. Trakx.io does not recommend that any cryptocurrency should be bought, sold, or held by you. Readers shall conduct their own due diligence and consult their financial advisors before making any investment decisions.