Trakx Weekly Update: May 1, 2023
Key Crypto Market Figures

CTIs Weekly Performance
Crypto prices regained some momentum last week with BTC up 7% at $29,400 and ETH up 2% at $1,894. The top performing CTI this week was Trakx NFT Metaverse, up 5%. Regulation was still at the centre of attention with the emigration of US crypto companies picking up in recent days, and Coinbase Global receiving a license to operate in Bermuda. This is part of the expected reaction from old US regulators cracking down on the crypto industry with aggressive enforcement campaign. Europe, on the other end, recently approved a wide-range regulatory framework with the Markets in Crypto Assets (MiCA) bill that will allow a unified approach to the legislation and a marked contrast to the US approach.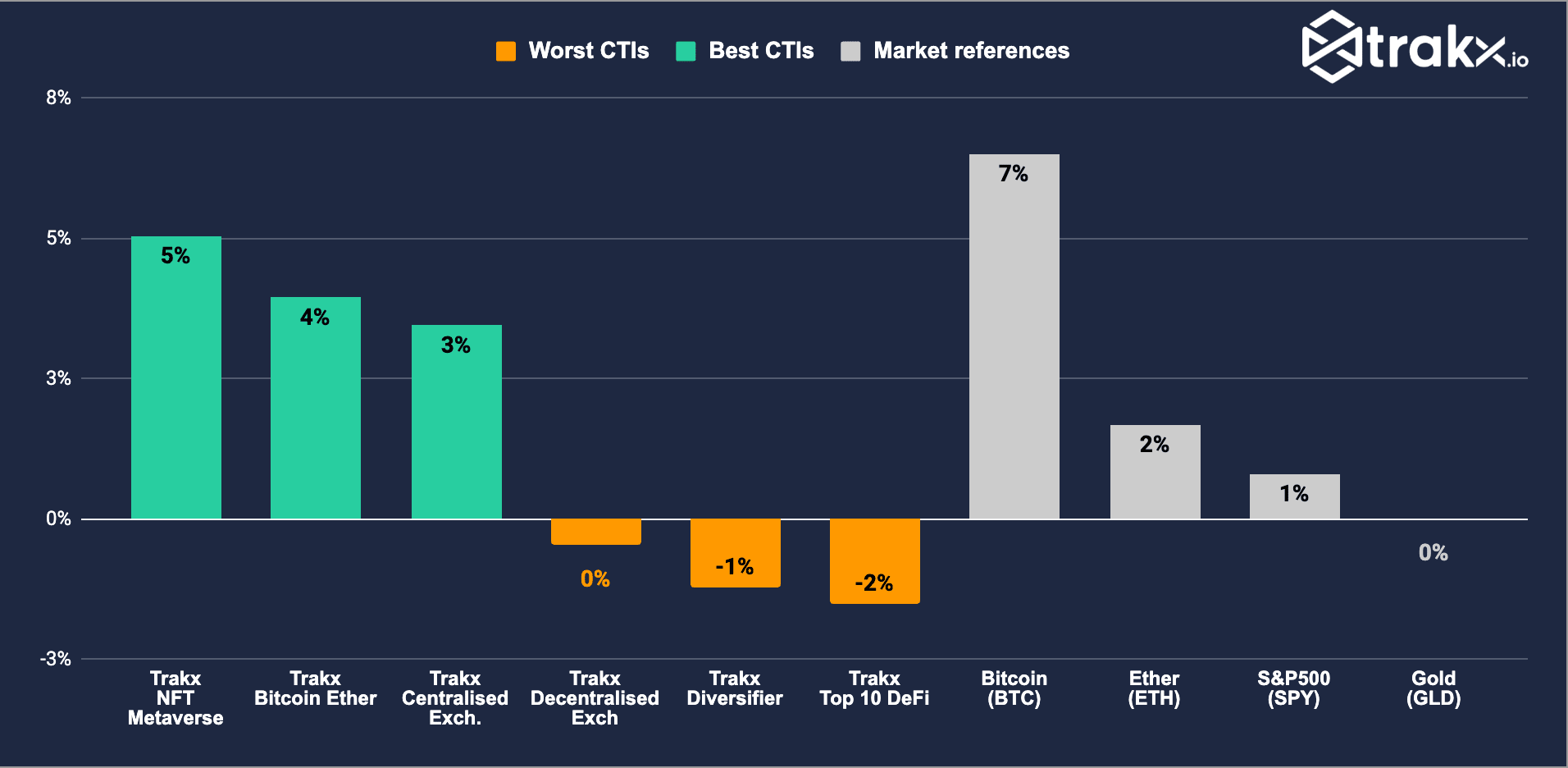 Sources: Trakx, Coingecko, Alphavantage
Market Trends
Trakx News
Ryan Shea's last article on how AI and crypto can be mutually beneficial was published on "La Tribune" (in French).
Trakx CTIs Performance

Sources: Coingecko and AlphaVantage
*Return of bitcoin is calculated since 01/05/2020, while CTIs performances were calculated since their respective launch date.
**Includes simulated performance.
***The risk signal is determined according to the historical volatility level, the higher the riskier.
Trakx is a global fintech company creating new standards for digital asset investments. Through our trading platform, we offer thematic Crypto Tradable Indices (CTIs) and customised solutions, providing sophisticated investors with a high degree of compliance, custody and liquidity.
TRAKX SAS, 10 rue de Penthièvre, Paris, 75008, FRAFrench société par actions simplifiéeParis Trade and Companies Register number 850 626 078Crypto Asset Service Provider (CASP)Registered with the Autorité des Marchés Financiers (AMF) under number E2021-020
Disclaimers: No Investment Advice. Index returns and statistics are for illustration only. Index returns do not reflect any transaction costs or expenses. Past performance does not guarantee future results. The information provided in this newsletter does not constitute investment advice, financial advice, trading advice, or any other sort of advice and you should not treat any of the newsletter content as such. Trakx.io does not recommend that any cryptocurrency should be bought, sold, or held by you. Readers shall conduct their own due diligence and consult their financial advisors before making any investment decisions.