Trakx Weekly Update: May 8, 2023
Key Crypto Market Figures

CTIs Weekly Performance
Cryptocurrencies experienced a modest pull-back over the past week with the Trakx Top10 Crypto CTI off 3%, although it is still up an impressive 46% year-to-date. Weakness was mainly observed in the smaller cap coins as evidenced by the 8% and 7% decline in the Trakx Diversifier and NFT Metaverse CTIs. In contrast, the best performing CTI was the Trakx Inflation Hedge, which gained 0.1% over the past week.
Part of the reason for the dip in crypto prices was the Fed's decision to hike its key interest rate 25bp. The hike was widely expected and is viewed by investors as marking the end of the current tightening cycle. However, the anticipated boost to crypto - and risk assets more generally – from the Fed pivot narrative was tempered by Chair Powell's failure to validate investor expectations that rate cuts could be coming as early as the summer despite continued worries about the health of the US regional banks.
While the major cryptocurrencies showed little movement last week, there was one notable exception. The frog-themed meme coin Pepe, which only launched in mid April, rallied over 300% last week as Binance announced it would list the coin. Despite Binance warning that Pepe has no underlying utility or value support mechanism, the recent spectacular price surge, has pushed the meme coin's market cap to more than $1bn, making it the 44th most valued cryptocurrency. The memecoin hype has also been responsible for the surge in Bitcoin transaction fees to a two-year high and congestion on the network.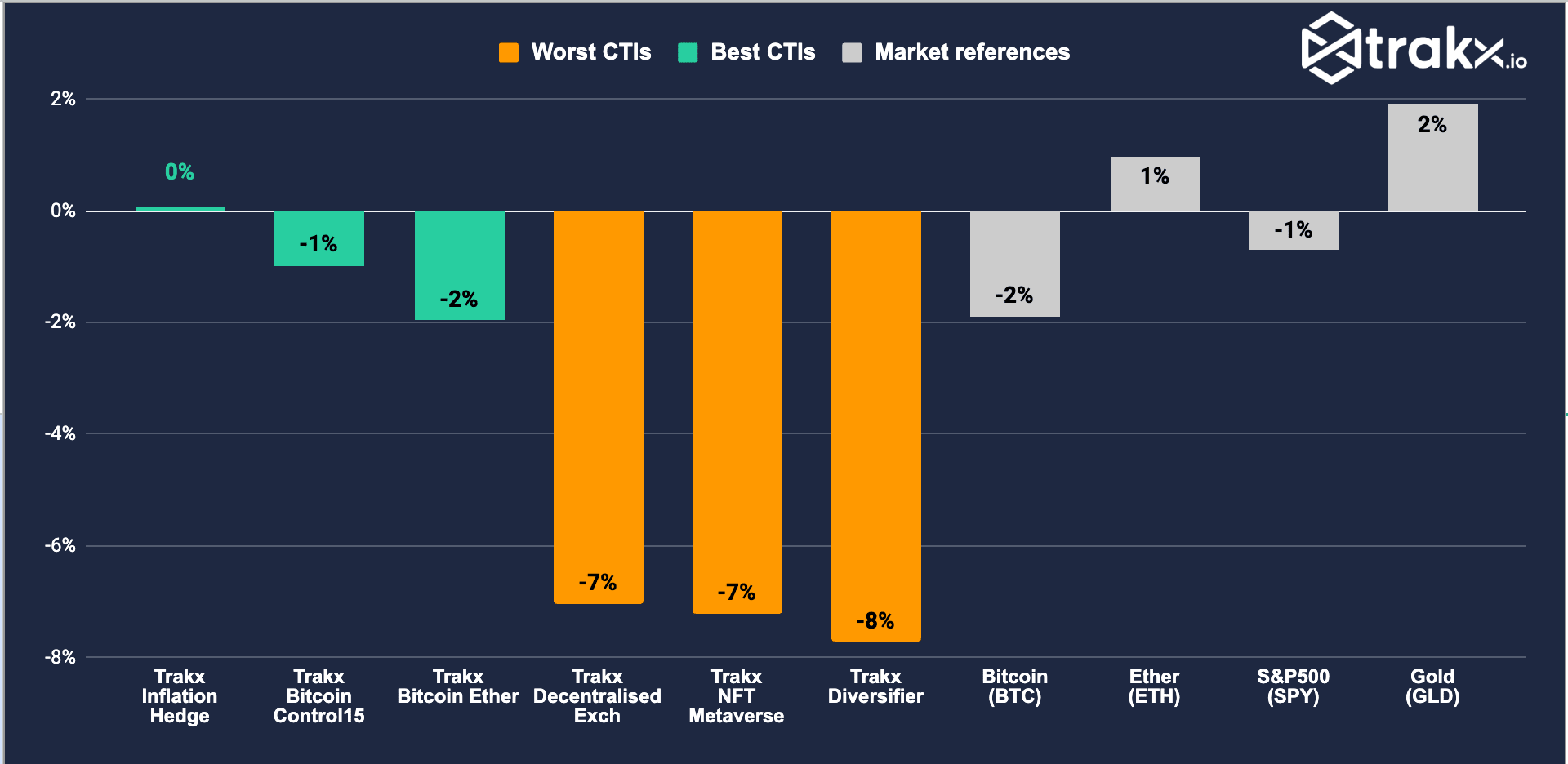 Sources: Trakx, Coingecko, Alphavantage
Market Trends
Coindesk: Federal Reserve Raises Fed Funds Rate by 25 Basis Points, Signals Possible Pause.
Decrypt: White House Issues Report Justifying 30% Crypto Mining Tax, Cites Lack of 'Economic Benefits.
Bitcoinist: Pepe Coin Goes Berserk With 1,500% Rally As Memecoin Seen Soaring Higher.
Cointelegraph: Binance closes BTC withdrawals amid congestion on the Bitcoin network.
Cointelegraph: Sotheby's auction house launches on-chain secondary NFT marketplace.
Trakx News
We are pleased to announce that we will be launching tomorrow a new version of our website, with improved features, a brand new design and improved on-boarding experience as part of our broader mission to provide access to crypto-indices in a seamless, safe and compliant manner.
Ryan Shea was quoted in the article "US Federal Reserve increases interest rates by 25 basis points" in The Block.
Trakx CTIs Performance
Sources: Coingecko and AlphaVantage
*Return of bitcoin is calculated since 01/05/2020, while CTIs performances were calculated since their respective launch date.
**Includes simulated performance.
***The risk signal is determined according to the historical volatility level, the higher the riskier.
Trakx is a global fintech company creating new standards for digital asset investments. Through our trading platform, we offer thematic Crypto Tradable Indices (CTIs) and customised solutions, providing sophisticated investors with a high degree of compliance, custody and liquidity.
TRAKX SAS, 10 rue de Penthièvre, Paris, 75008, FRAFrench société par actions simplifiéeParis Trade and Companies Register number 850 626 078Crypto Asset Service Provider (CASP)Registered with the Autorité des Marchés Financiers (AMF) under number E2021-020
Disclaimers: No Investment Advice. Index returns and statistics are for illustration only. Index returns do not reflect any transaction costs or expenses. Past performance does not guarantee future results. The information provided in this newsletter does not constitute investment advice, financial advice, trading advice, or any other sort of advice and you should not treat any of the newsletter content as such. Trakx.io does not recommend that any cryptocurrency should be bought, sold, or held by you. Readers shall conduct their own due diligence and consult their financial advisors before making any investment decisions.