Trakx Weekly Update: November 28, 2022
Key Crypto Market Figures

Crypto Tradable Indices (CTIs) Weekly Performance
Leading crypto tokens remained in consolidation phase, with prices trading sideways to small up over the past week. One notable exception was Huobi Token, which gained almost 60%, amid rumours that it would merge with Poloniex. The surge helped both the Diversifier and CEX CTI's post double-digit weekly gains. Meanwhile, the DEX CTI was boosted by Curve's native token, CRV, rallying over 30% as users on the platform squeezed Avi Eisenberg (the person behind last month's attack on Mango) after he accumulated a large short position in an attempt either to trigger further CRV liquidations or manipulate AAVE, the lending platform used to establish the CRV short position (the underlying motivations remain unclear).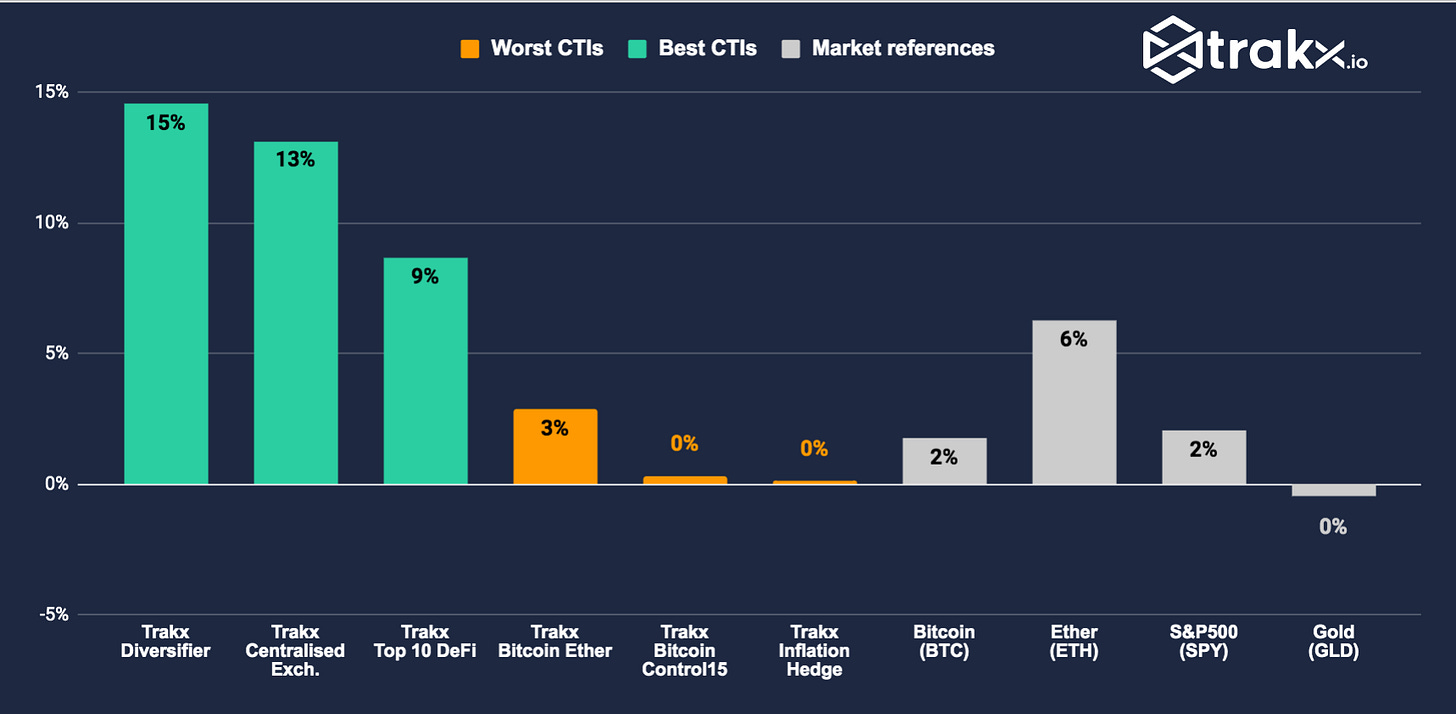 Source: Coingecko and AlphaVantage
Market Trends
Trakx News
Trakx published the Summary of Trakx webinar about FTX aftermath.
Trakx CTIs Performance

Sources: Coingecko and AlphaVantage
*Return of bitcoin is calculated since 01/05/2020, while CTIs performances were calculated since their respective launch date.
**Includes simulated performance.
***The risk signal is determined according to the historical volatility level, the higher the riskier.
Trakx is a global fintech company creating new standards for digital asset investments. Through our trading platform, we offer thematic Crypto Tradable Indices (CTIs) and customised solutions, providing sophisticated investors a high degree of compliance, custody and liquidity. Trakx is registered with the French regulator (AMF).
Disclaimers: No Investment Advice. Index returns and statistics are for illustration only. Index returns do not reflect any transaction costs or expenses. Past performance does not guarantee future results. The information provided in this newsletter does not constitute investment advice, financial advice, trading advice, or any other sort of advice and you should not treat any of the newsletter content as such. Trakx.io does not recommend that any cryptocurrency should be bought, sold, or held by you. Readers shall conduct their own due diligence and consult their financial advisors before making any investment decisions.