Trakx Weekly Update: October 17, 2022
Key Crypto Market Figures

Crypto Tradable Indices (CTIs) Weekly Performance
Risk asset markets remained on the back foot last week. Weighing on sentiment was another hot US CPI print further dashing hopes of an early Fed pivot and the continued turbulence in UK asset markets with investors unnerved by the ongoing political turmoil that saw the Chancellor removed from office after just 38 days. The result was pockets of weakness in the crypto market, with the Trakx NFT Metaverse losing almost 10%. The ESG and Top 10 Defi indices also suffered losses attributable to the $100m hack of the Solana-based DeFi lending platform Mango Markets. More on this TheMotleyFool.
However, the major cryptocurrencies fared better with the Trakx Bitcoin/Ether index down less than 1%, resilience that strengthens the view that crypto and equities are gradually decoupling.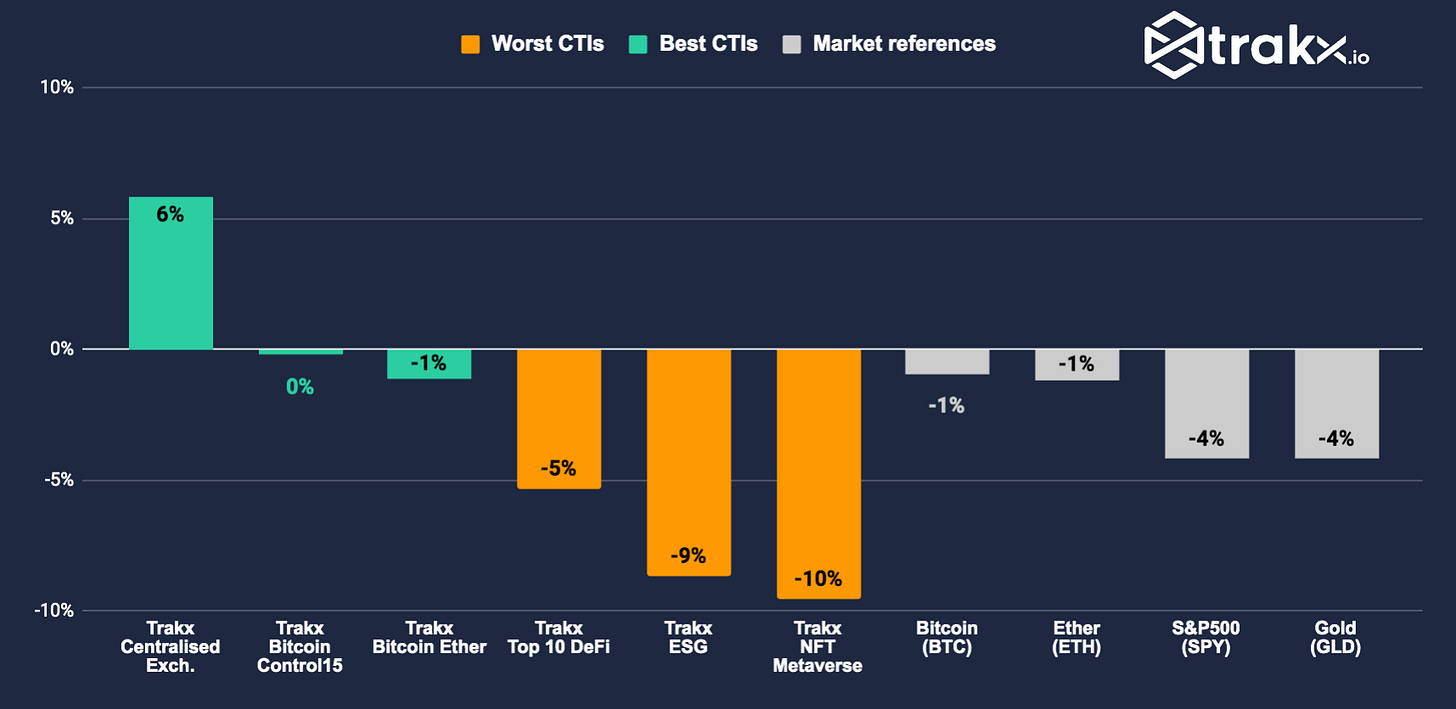 Trakx sources: Coingecko and AlphaVantage
Market Trends
Trakx News
Trakx hosted the Webinar Crypto Investments with Sustainability in Mind. For those who couldn't make it, you can watch it here Zoom recording (secret code: xV0*D!b8)
Trakx CTIs Performance

Sources: Coingecko and AlphaVantage
*Return of bitcoin is calculated since 01/05/2020, while CTIs performances were calculated since their respective launch date.
**Includes simulated performance.
***The risk signal is determined according to the historical volatility level, the higher the riskier.
Trakx is a global fintech company creating new standards for digital asset investments. Through our trading platform, we offer thematic Crypto Tradable Indices (CTIs) and customised solutions, providing sophisticated investors a high degree of compliance, custody and liquidity. Trakx is registered with the French regulator (AMF).
Disclaimers: No Investment Advice. Index returns and statistics are for illustration only. Index returns do not reflect any transaction costs or expenses. Past performance does not guarantee future results. The information provided in this newsletter does not constitute investment advice, financial advice, trading advice, or any other sort of advice and you should not treat any of the newsletter content as such. Trakx.io does not recommend that any cryptocurrency should be bought, sold, or held by you. Readers shall conduct their own due diligence and consult their financial advisors before making any investment decisions.