Trakx Weekly Update: March 13, 2023
Key Crypto Market Figures
CTIs Weekly Performance
Cryptocurrencies prices remained on the back foot for much of last week as the confluence of a hawkish Fed and the news that Silvergate – the crypto-friendly bank – would "voluntarily liquidate" its assets and wind down operations hit investor sentiment. We covered this topic in Fallout a blog post published last Friday.
Adding to a growing sense of crisis, California's regulator closed tech-friendly bank Silicon Valley Bank (SVB) on Friday. Cryptocurrency prices slumped on the news, and USDC – widely considered the safest fiat-backed USD stablecoin - broke its peg as it revealed it had over $3bn in deposits in SVB.
However, all changed on Sunday when US policymakers made announcements to shore up public confidence. Cryptocurrencies surged with market leaders Bitcoin and ETH up more than 6%, despite the news that Signature Bank – another large crypto-friendly – was being closed by regulators.
Despite the roller-coaster ride, Trakx Crypto tradable Indices were little changed on the week. Although there were pockets of weakness – Centralized Exchange, NFT Metaverse and Diversifier CTIs were all down) – Trakx indices were broadly flat, a marked outperformance relative to the 5% loss seen in the SP500. The Top 10 CTI was off just 2%.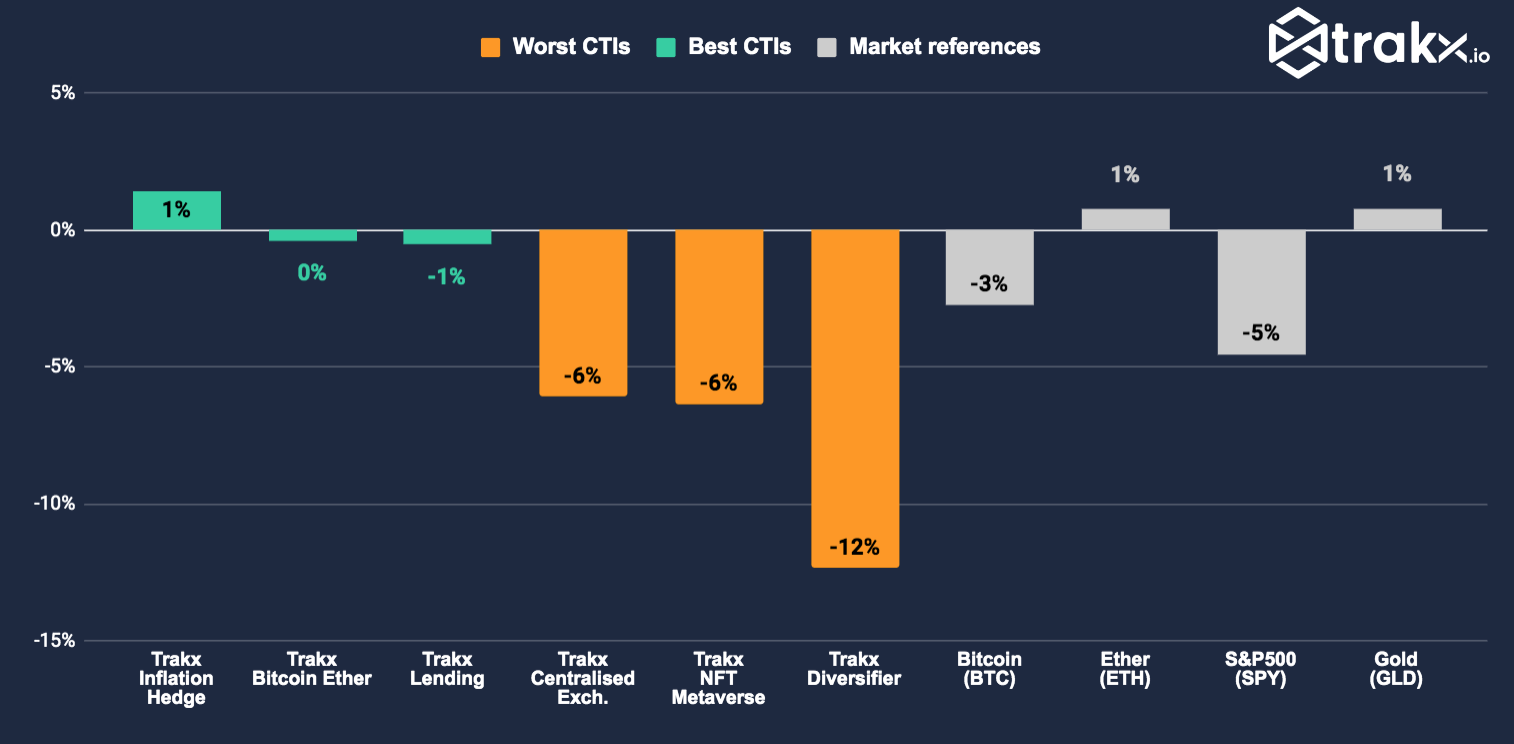 Sources: Trakx, Coingecko, Alphavantage
Market Trends
Trakx News
Ryan Shea published a note about Silvergate Fallout and its regulatory consequences
Ryan Shea was quoted in articles by Adam Morgan at The Block and by Aidan Ryan and Akash Pasricha at The Information
Lionel Rebibo posted a comment on LinkedIn about Trakx's little exposure to USDc and USD banks
Trakx CTIs Performance
Sources: Coingecko and AlphaVantage

*Return of bitcoin is calculated since 01/05/2020, while CTIs performances were calculated since their respective launch date.
**Includes simulated performance.
***The risk signal is determined according to the historical volatility level, the higher the riskier.
Trakx is a global fintech company creating new standards for digital asset investments. Through our trading platform, we offer thematic Crypto Tradable Indices (CTIs) and customised solutions, providing sophisticated investors with a high degree of compliance, custody and liquidity.
TRAKX SAS, 10 rue de Penthièvre, Paris, 75008, FRAFrench société par actions simplifiéeParis Trade and Companies Register number 850 626 078Crypto Asset Service Provider (CASP)Registered with the Autorité des Marchés Financiers (AMF) under number E2021-020
Disclaimers: No Investment Advice. Index returns and statistics are for illustration only. Index returns do not reflect any transaction costs or expenses. Past performance does not guarantee future results. The information provided in this newsletter does not constitute investment advice, financial advice, trading advice, or any other sort of advice and you should not treat any of the newsletter content as such. Trakx.io does not recommend that any cryptocurrency should be bought, sold, or held by you. Readers shall conduct their own due diligence and consult their financial advisors before making any investment decisions.